Self Contained Solar Wind Generator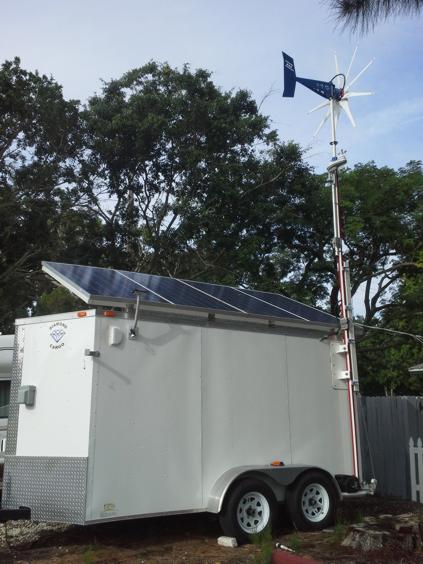 Portable & self contained power station based on 6x12 7,000# GVW dual axle chassis with aerodynamic front (which adds 2 additional feet). Wind turbine (crank/12v winch operated) and solar array stow flat for safe legal transport.  Solar Array, with the release of 3 latches, easily tilts up with the aid of 6 support cylinders.

Electrical power output (110vac) is much cleaner than regular generators and is much safer for computers and other delicate electronics.Connections are as simple as plugging in a normal extension cord; (12vdc)without using the inverter). Easy to read and understand on-board power meters display system operations including Volts, Amps,Amp-hours,remaining capacity, and input values for PV energy input source. Maximum interior space is retained for storage; high grade shelving is available for food, water and other items. Rear ramp door allows for easy loading of your toys or work gear.
Solar & Wind Turbine Deployed




Solar Electronics


Solar Panel Air Cylinder Supports




Freeze Dried Food, Pharmaceuticals


Center Isle Battery Bank




Wind Turbine Electronics


Water, Freeze Dried Food & Paper Products

1248 Amp Hour Battery Bank

Also includes:
 1.  (4) 280 watt solar panels
 2.  2812 watt Outback power inverter
 3.  FM80 Outback 80 amp charge controller
 4.  Flexnet DC monitor, Hub4 & Mate2
 5.  Lightning Arrestor
 6.  All appurtenant circuit breakers
 7.  1600 watt non-clogging wind turbine
 8.  Turbine electronics: charge controller, volt/amp meter & dump loads
 9.  (6) Rolls S6-460AGM batteries; 1248 AH total
10.  20A 120V inside outlet
11.  20A 120V outside outlet
12.  30A 120V RV outside outlet
Please use the contact form below if you are interested in purchasing this unit.