HydroRight Dual Flush Converter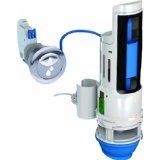 M J S I Inc HYR270 Dual Flush Converter
Based on dual flush technology that has been used in Europe and Australia for decades, the award-winning HydroRight quickly and easily turns standard toilets into two-button fixtures that have been proven to reduce water usage by 30%. One button is the Quick Flush setting that uses significantly lower water volumes for liquids and paper the setting needed 4 out of 5 times. The second Full Flush button uses the normal amount of water for solids.
The HydroRight dual flush converter kit tells you right on the box that it can save you up to 55,000 liters per year. That claim may hold true if one or more of the following applies:

* You have an old toilet with a large 20 liter / 5 gallon tank. These haven't been sold in years. Newer tanks are typically 13 liter or less, and more importantly, the liters per flush droops to 13 LPF (3 GPF) for toilets currently available for purchase, and in some jurisdictions, new houses must have even more efficient 6LPF or 1.6GPF toilets installed.
* You have the wrong type of flapper installed in a 6 liter per flush toilet. This can use upwards of 15 liters per flush or 4.4 gallons.
* You have a large household, only one toilet used most of the time, and it gets flushed after every use
* Your toilet isn't just for household use - for instance, a toilet at a gas station that is used by customers many times in a day
But even if you only save half or a quarter that much - and even if you don't pay for water - you'll still save money by installing a HydroRight dual flush converter.
The HydroRight dual flush converter quickly and easily converts standard toilets into two-button toilets that feature a Quick Flush for liquids and paper and a Full Flush for solids. It has been proven in independent tests to reduce indoor water use by 30%, even in low-flow, 1.6gpf toilets. The HydroRight requires no tools or tank removal to install.

* Installs without tools in 5–10 minutes
* Tank removal not required
* Works with all standard flush valves
* Eliminates flapper problems
* Eliminates the most common problems in toilets - the flapper, chain and handle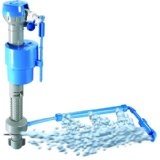 Hydro Clean Fill valve
For the best results for the HydroRight dual flush converter kit, we recommend the Hydro Clean Fill valve. It controls the water fill for your toilet and works great with the HydroRight dual flush converter kit.


Click here to Purchase

---