Go to Home Page
Click this Link To See A Brief Demo Of The Ebook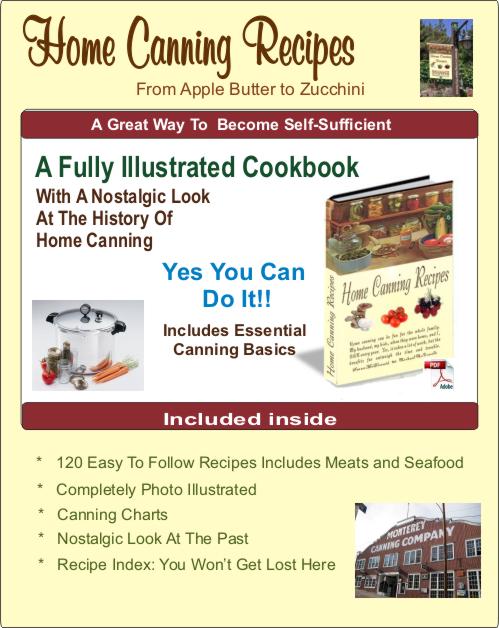 Home Canning Recipes
Disregard the value of your time, canning homegrown or locally produced food can save you half of the cost of purchased canned food. Canning favorite and special products to be enjoyed by your friends and family can be very rewarding. Home canning has changed greatly in the 170 odd years since it was first introduced.
New developments in technology have resulted in safer, higher quality products. Home canning is a great way to take advantage of summer's bounty, and preserve all of those fresh vegetables and fruits.
I have been collecting home canning recipes for years. This book is the result. Through trial and error, I have come up with some of the best recipes to share with you.
Home canning can be both a joy and a chore, but it is well worth it. With the costs of canned food rising, and the urge to be self sufficient growing, home canning is making a resurgence in today's society. This Book is full of recipes for everything from apple butter to zucchini.
Fully illustrated with great photographs, and a touch of nostalgia throughout, it is a great aid to those who want to explore the art of home canning as well as the veteran canner. The recipes included are for both the pressure canning and water bath method.
Home canning can be a most enjoyable experience. Get the whole family involved. It will make many great, lasting memories that your family will always cherish. You'll find pleasure in the canning process, and pride in your home canned jars of food. Remember, they also make great gifts!
Click these links to purchase
Paperback
Paperback or Kindle version with Full color recipes