A Beautiful Handmade Walking Cane
Handmade Walking Canes
A cane is becoming a necessity for some of us baby boomers today. Yes, age is catching up with us all, and mobility devices are becoming a commonplace item in our homes. But they don't have to be utilitarian, in fact, they can be stylish and beautiful.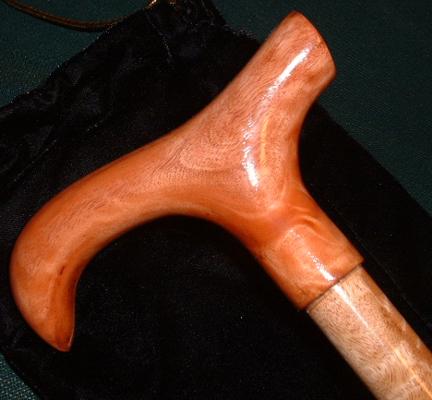 A few years ago the county came in and cut down a 200 year old Eucalyptus tree from my neighbor's property. The trunk of this tree was at least 8 feet in diameter. The side branches were 4 feet in diameter and my husband got two of them. He wanted pieces of the trunk, but they were too heavy to lift. The county sent a crane and dump truck, and sent the whole tree to the landfill. Anyone who was there looking for wood, found a treasure trove!! In fact, one of the logs is still sitting in my back yard, and my husband made some canes from the other one.
On this page we are offering those handmade canes to the public. They are all handmade from Michael's woodshop. Each handle was shaped by hand. And we custom fit the length to your height. Also each cane comes equipped with a non skid rubber foot.
We think you will find that these canes are not only beautiful, but will meet your need for a functional stylish cane.
In order to fit the cane to your height, we need a measurement from you.
Stand in your shoes with your arms down by your side. Bend your wrist so that you hand is parallel to the floor. Then measure from the base of your wrist to the floor. That will determine the length of the cane. Also specify male or female as the shafts are larger circumference for a man.
When you make your payment through PayPal, make a notation of the desired length on the order form.