A Personal Air Purifier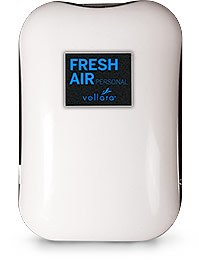 FreshAir Personal

Today's modern indoor environments are rife with contaminants. The FreshAir Personal provides nature's own powerful properties with a built-in ionizer that attracts free-roaming particles and captures them, reducing allergens and pollutants that invade the space you breathe. The FreshAir Personal creates an almost particle-free zone around the wearer by generating high intensity ion streams that add charges to nearby airborne particles. These charged particles repel each other and adhere to surfaces out of your breathing zone. This means substantially decreased concentrations of allergens, smoke, dust, and pollen in the air you breathe. The FreshAir Personal is designed and engineered to be so simple to use that it encourages daily usage, like wearing a watch.



No Fan, Filter, or Maintenance Required

The advanced technology contained within the unit serves to make breathing easier, cleaner and healthier. This simple, elegant unit provides the cleanest, freshest air possible while shopping, working or visiting friends and family.

    The FreshAir Personal uses ionization to provide clean air by creating ions that are positively charged to remove microscopic particles from the air that will reduce allergens and harmful airborne pollutants
    An On/Off switch to preserve battery usage
    Requires no fans, filters or maintenance for use
    The FreshAir Personal is lightweight, easy to use, and rechargeable

Features a universal neck strap and a built in clip for hanging it on a collar to wear anywhere.


Designed For Use Indoors
This air purifier is most effective when used indoors, and when the wearer is standing or sitting upright. Outdoor conditions, or when the wearer is lying down reduces or eliminates it's effectiveness.
Rated Voltage      3VDC
Power Consumption     <0.03W
Size    3.8 x 2.2 x 1 in 83.8 x 55.6 x 25.4mm
Net Weight     50 +/- 5g
Ion Output     6 million/cm3
Ozone Output     <0.01 ppm
Design Life    97600 Hours
Power   Lithium Battery
Warranty     Ninety (90) day limited warranty



---
Click here to purchase
FreshAir Personal