Unique Reclaimed Wood Items
On this page we are offering some very unique reclaimed wood items that are handmade and will make great gifts. Once again, Micheal tapped into those Eucalyptus logs he has stored, he also came across a great old cedar tree being cut down, and grabbed that one. Michael has been really busy in his workshop, and really wants to share his pride and joy with you.

Mini Cedar Chest
This is a miniature copy of an antique Lane cedar chest, that I have had all of my life. The chest stands 4-3/8" high x 4-3/8" wide X 8-1/8" long, with brass hinges and clasp. It is perfect for storing all of those tiny treasured mementos that you have lying everywhere. My Granddaughter loves hers! IT WOULD MAKE A GREAT GIFT FOR THAT YOUNG LADY IN THE FAMILY.
Price: $49.99




Desktop Stamp Holder
These little gems are made from that Eucalyptus tree I told you about. They hold a 100 ct roll of stamps, and will fit just about anywhere. The Desktop Stamp Holder stands 3" high x 1-1/4" wide X 2-3/8" long. With the price of fuel these days, purchasing your stamps by the roll makes good sense. I've been using one for quite a while now and I love it. If you are looking for that gift for the person who has everything, this just might be the right one after all.
Price: $24.99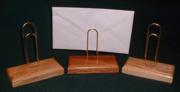 Paper Clip Letter Holder
Do you have post its everywhere? Are those envelopes on your desk always in your way? Then this little clip may be the answer you are looking for. Made from various hard woods, and with a brass clip, it's sure handy to have on your desk. The letter holder stands 4-1/4" high x 2-1/4" wide X 3-5/8" long They also make a great gift.
Price: $5.99



Florida Roach Buster
This little item makes a great gag gift, for those who hate those little critter that invade the home. Made from reclaimed wood, it comes with complete directions for use.
Price: $1.99



Cedar Closet Sachets
These dandy little Reclaimed Wood Items are hand made with reclaimed cedar shavings, that are packed into muslin bags, stitched closed and tied with ribbon. They can hang in a closet, or you can place them in a drawer, to give your clothes that cedar closet smell. They also repel moths to help protect your clothes from damage. In a large closet you will need at least two.
Price: $1.99
Special: Buy 3 sachets and get your shipping free!!
Price 4 Pack: $5.29
Price 12 Pack: $17.49
Email a Friend
about this page
(Only click once!
Please be patient while your email application opens)
Click Here to Purchase Reclaimed Wood Products



Back to "Recycled Wood Page" from reclaimed wood items