A Great Law Enforcement Award
Law Enforcement Award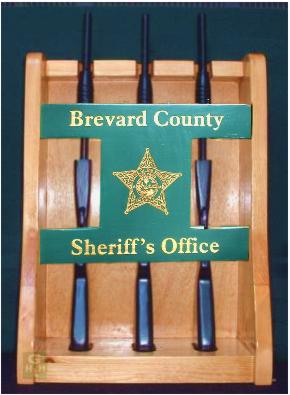 A great award, handmade and laser etched, it is a good way to honor the law enforcement officer in your life.
Miniature Gun Rack
Reclaimed Pine with 4 miniature shotguns enclosed in it.

A great presentation for:
*Officer of the Year Award
*Sharp Shooter Award
*Clay Shooting Champion
*Hunting and Rifle Clubs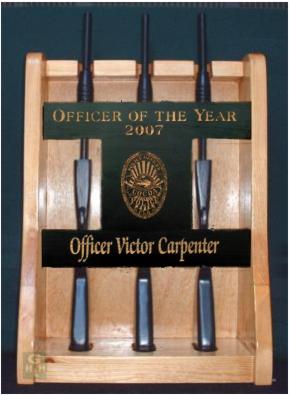 We will etch any sentiment into the plaque for you and add a badge for the department, be it sheriff or policeman.
All our award plaques are made of recycled white pine, edges eased, sanded smooth, and finished with at least 2 clear finish coats. Image Logos are laser etched and all information is to your specifications.

Dimensions:
9 3/4 inches wide
13 inches tall
4 1/4 inches deep
Fill out the form below to order. The top part of the form is the purchaser information. Red sections are info to go on the plaque itself.
A photo of the badge should be included with your order in 600dpi
Use the form below to contact us about wholesale pricing and/or to send us details about your order.