Miniature Rod Rack Fishing Trophy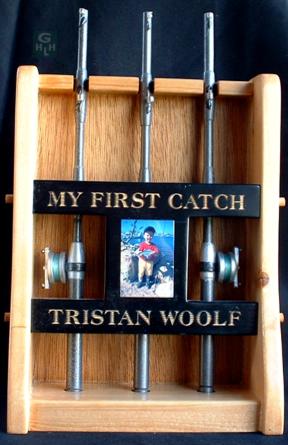 Fishing Trophy
Do you have a new fisherman in the family? Our plaque will honor his first success!! It is also great as a trophy for a contest. We will laser etch any sentiment required by you, and attach a photo of the winner. We will need a 600dpi photo, which can be attached to an email. They are made one at a time from reclaimed pine, and laser etched to your specification, with 24 Man Hours labor involved in each trophy. The fishing rods are hand made also. This trophy is for that special person who deserves the best!
We do offer wholesale pricing just email us at green-living-healthy-home@live.com
All our award plaques are made of recycled pine, edges eased, sanded smooth, and finished with at least 2 clear finish coats. Image Logos are laser etched and all information is to your specifications.
Miniature Fishing Rod Rack
Reclaimed Pine with 3 miniature Fishing Rods enclosed in it.
Note**These are non-working rods, for display only
We will etch any sentiment into the plaque for you and add a Photo.
Dimensions:
9 3/4 inches wide
13 inches tall
4 1/4 inches deep
Fill out the form below to order. The top part of the form is the purchaser information. Red sections are info to go on the plaque itself. Please fill out the form and submit before using the add to cart button as this will take you to the shopping cart.