A Plugin Air Purifier to Use Where Your Need It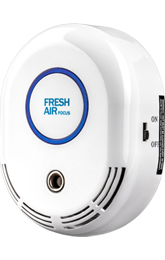 We are excited and proud to announce the debut of the new improved and better designed FreshAir Focus! Everything about it is new – from the sleek, streamlined exterior to the new continuous ionization and push-button purifier function.
This Focus is like nothing you've seen before! The new FreshAir Focus has replaced the previous model's single needle point ionizer with new 4 needle point ionizers, which allows for improved distribution of ionization into your environment.
It still covers approximately 50 square feet, making it the perfect size for a hotel room or bathroom. The FreshAir Focus now has an attractive FreshAir button, which allows you to control the activated oxygen feature at your discretion.
No Sprays, Perfumes, or Chemicals Needed The advanced technology contained within the FreshAir Focus serves to make breathing easier, cleaner and healthier. This simple, elegant unit provides the cleanest, freshest air possible within small low ventilated areas.
FreshAir Focus uses ionization to provide clean air by creating ions that are negatively charged to remove microscopic particles from the air that will reduce allergens and harmful airborne pollutants

FreshAir Focus also has a purification function to quickly freshen the air as it is being cleaned.
The ionizer Purification function is easily activated using the button on the front of the unit and automatically turns off after 30 minutes.
The purification function can also be turned off manually be pressing the button on the front of the unit a second time.
FreshAir Focus uses no chemicals and is quiet, easy to use, and low maintenance.


Color: Pearl
Max 03
4 mg/hr
Technology
Activated oxygen (O3)
Light activated nightlight
Power Usage
120 Volts, 4.5 watts
Lint Screens & Filters none
Applications
Bathrooms, garbage cans, diaper pails, litter boxes
Coverage
50 sq ft
Size
3" wide x 4.25" high x 1.75" deep
Weight
1.5 oz



Click Here to purchase plug-in air purifier





Back to "Home" Page From Plugin Air Purifier



---