"Physician's Formula"
Nutritional Supplements
ReFlex for joint health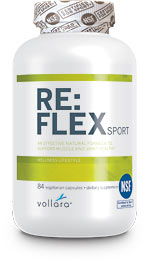 Please allow us to introduce this line of nutritional supplements, in our ongoing efforts to help you keep your family healthy. Designed by a doctor, they are geared toward helping with specific problems that you may be experiencing.
Specially formulated to support muscle & joint health



The muscle and joint discomfort associated with an active lifestyle can be hard to ignore. For relief, try Re:Flex Sport, a proprietary blend of enzymes, powerful herbs, and antioxidants specifically formulated to support muscle and joint health.

Re:Flex Sport provides highly concentrated proteolytic enzymes, including bromelain, to support the body's natural anti-inflammatory systems. These enzymes are combined with powerful herbs, like Boswellia, that have been used for centuries in herbal medicine to support the body's natural healing processes.

In addition, Re:Flex Sport provides a combination of antioxidant nutrients to help the body fight the free radicals which may be released after an injury or in inflammatory conditions. Re:Flex Sport utilizes the CAeDS® mechanism to ensure maximum effectiveness
Benefits of Re:Flex Sport

    Promotes faster recovery from exercise and competition
    Helps maintain healthy muscles and joints

Take Re:Flex Sport if:

    You need extra support for joint and muscle health
    You plan to participate in strenuous activity
    You want to recover more quickly from exercise, sports or other physical activities
    You want to support the body's natural healing processes


ReMind for heart health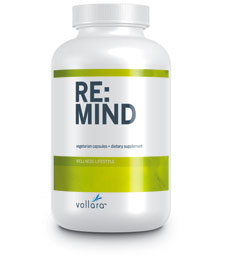 Support Heart Health

We know more and more each day about the benefits of Omega-3 fatty acids. The American Heart Association (AHA) urges men and women to eat fatty fish which contain Omega-3s such as mackerel, lake trout, herring, sardines, albacore tuna and salmon to maintain heart health. The benefits of Omega-3s relative to hypertension, depression, joint pain, and other rheumatoid problems are more clear every day, thanks to recently published research. Some research has even shown that Omega-3s can help support the immune system.

Omega-3 fatty acids are 'essential' because they're necessary for proper growth and development, yet they can't be produced by the body itself. They must be obtained through dietary sources. Re:Mind by Vollara is a balanced source of the omega-3 essential fatty acids eicosapentaenoic acid (EPA) and docosahexaenoic acid (DHA)

    Eicosapentaenoic acid (EPA) is an Omega-3 fatty acid found in the tissues of marine mammals and oily fish
    Research has suggested that eicosapentaenoic acid (EPA) may support heart health
    Docosahexaenoic acid (DHA) supports mental development and cardiovascular health
    Omega-3s may contribute to healthy cognitive function, mood and behavior
    All natural lemon flavor prevents fishy aftertaste

Click here to purchase "Nutritional Supplements"