LIFESTRAW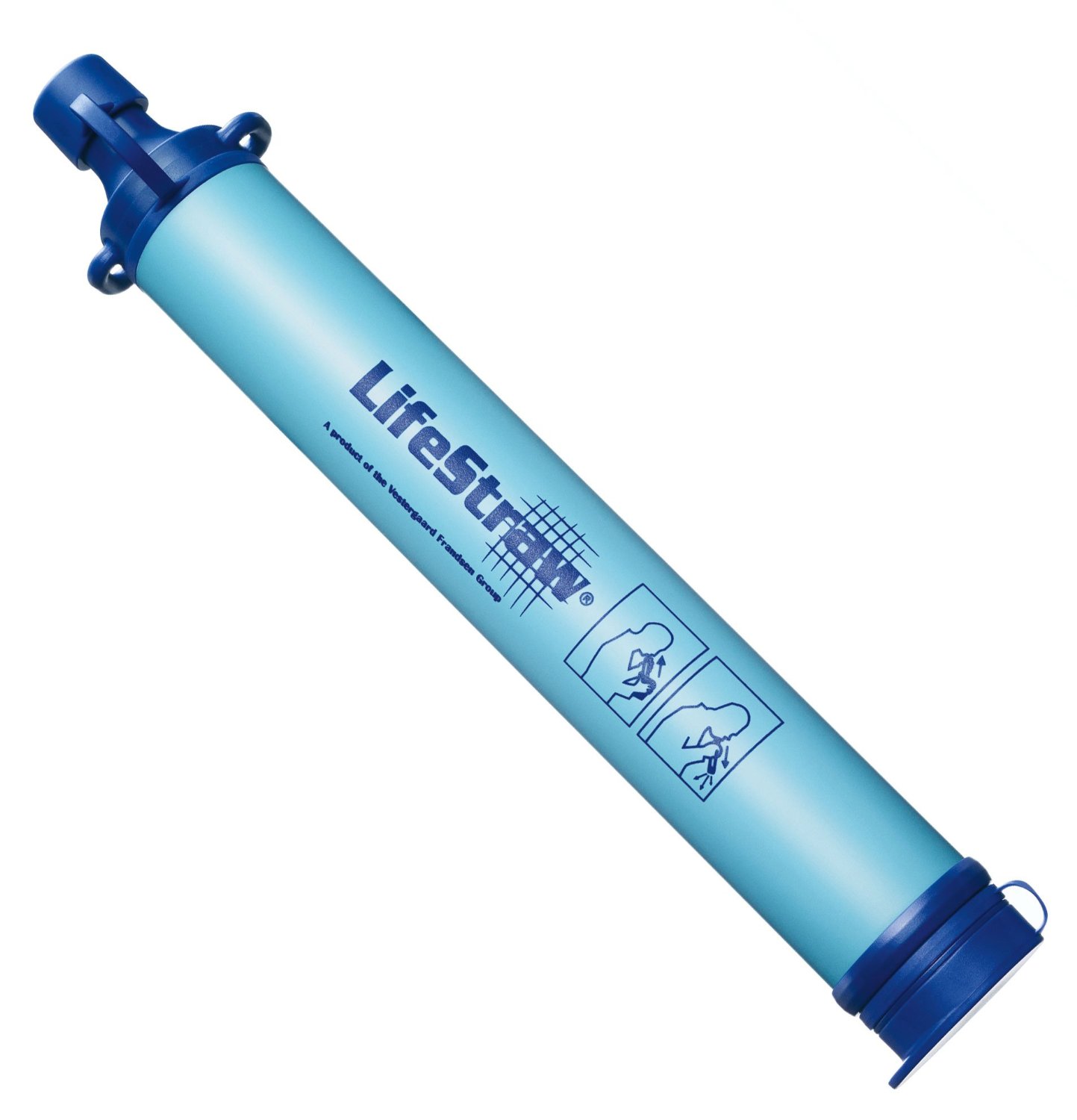 LifeStraw offers easy access to clean and safe drinking water anywhere!

A Time Magazine "Invention of the Year" winner, LifeStraw is the most advanced, compact, ultralight personal water filter available. LifeStraw contains no chemicals or iodinated resin, no batteries and no moving parts to break or wear out. It features a high flow rate and weighs only 2oz. LifeStraw is perfect for the ultralight backpacker, traveler, boy scout, hunter, and especially for emergency preparedness.
LifeStraw is perfect for the ultralight backpacker


The LifeStraw will not desalinate salt water, remove dissolved chemicals or minerals, nor remove viruses. If drinking from water which may have viruses in it (e.g. contaminated by human sewage), pre-treat with water treatment tablets. See the included instruction manual for more information.

Additional Features:

    No after-taste. LifeStraw has no after-taste, since no chlorine, iodine or other chemicals are used.
    No waiting time. You can drink from your LifeStraw right away. There is no need to wait for water to drip or chemicals to act.
    5-year shelf life: Can be stored and used periodically. The shelf life is not reduced if the LifeStraw is used occasionally and then put back in storage.
    LifeStraw meets or exceeds EPA standards for efficacy. LifeStraw was successfully assessed in laboratory conditions (harsher conditions than what is required by the EPA in terms of turbidity and organic matter), up to 1600 liters (approximately 160% of design life). Independent testing at the University of Arizona showed that LifeStraw exceeds the EPA requirements of LOG 6 reduction for bacteria and LOG 3 reduction for protozoan parasites.
    Bacteria removed include: Escherichia coli ("E. Coli"), Campylobacter, Vibrio cholerae ("Cholera"), Pseudomonas aeruginosa, Shigella, Salmonella.
    Protozoa removed include: Giardia lamblia ("Beaver Fever"), Cryptosporidium parvum ("Crypto"), Entamoeba histolytica.

Drink directly from puddles or streams

Features

    Drink directly from streams, or from a wide-mouth water bottle
    Removes a minimum of 99.9999% of waterborne bacteria
    Removes 99.9% of waterborne protozoan parasites
    Surpasses EPA guidelines for E. coli, Giardia (beaver fever), and Cryptosporidium oocysts, and many others.
    Reduces water turbidity, filters particles of approximately 0.2 microns.
    Filters up to 264 gallons (1000 liters) of contaminated water per manufacturer.
    Contains no chemicals. Does NOT contain iodinated resin (iodine): safe for your thyroid gland. BPA-free.
    Will not allow water to flow when it reaches capacity.
    The choice of NGOs for worldwide humanitarian relief since 2005. A portion of sales goes to support clean water projects worldwide.

Product Description
A Time Magazine Invention of the Year winner, LifeStraw contains no chemicals, no batteries and no moving parts to wear out. It features a high flow rate and weighs only 2oz. It is perfect for the Ultralight backpacker, camper, hiker, traveler, boy scout, hunter or for emergencies. Unlike many similar filters on the market today, LifeStraw has met EPA standards for water filtration in independent testing. LifeStraw has been used around the world under extreme conditions for humanitarian relief. Does not filter chemicals, salt, viruses, heavy metals, taste. Shelf life has been extended to 5 years. Please NOTE: It takes roughly 3-5 seconds of sucking to start the flow of water through the filter.

Click the link below to purchase the Lifestraw

LifeStraw Personal Water Filter