FreshAir Everest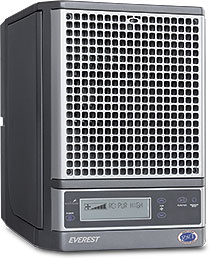 Have you ever thought about what's really polluting your home environment? Little ones bring the day's germs home with them and spread them everywhere. Garbage cans are funky. The smell of leftover spicy food can linger for days. And who knows what surprises our pets bring in with them.

Now imagine eliminating that pollution at the source. We're not talking about spraying a cloud of flower-fragranced chemicals. Our solution is as easy as pushing a button to keep things cleaner and safer to touch, not to mention smelling fresher. The FreshAir Everest  is a revolutionary air purifier that does so much more than clean the air. Using the same science as nature, FreshAir Everest destroys odors, eliminates smoke and reduces harmful contaminants or pollutants ordinary cleaning can leave behind.


So how does the FreshAir Everest clean and freshen the air? In short, it is technology based on how nature keeps things safe and clean outdoors. The natural processes found in thunderstorms, sunlight, and lightening are re-created indoors. ActivePure Technology duplicates nature to safely reduce contaminants and on surfaces.

FreshAir Everest  is like 24/7 healthy home insurance. It is the core of a total protection package for whole-home environmental conditioning. FreshAir Everest is always working - sending out an active army of safe and natural ions as well as pollutant-controlling, odor reducing and oxygen-rich 'scrubbers' to make your home safer and healthier.
Benefits of FreshAir Everest

    Removes airborne contaminants and alleviates symptoms such as coughing, sneezing and itchy or watery eyes
    Freshens air and removes odors in otherwise stale-prone environments
    Removes floating dirt and dust from the air to make cleaning easier

The advanced technology contained within the FreshAir Everest serves to make breathing easier, cleaner and healthier. This convenient, in-home unit provides the cleanest, freshest air possible throughout the entire home.

    FreshAir Everest includes many of the same features of FreshAir Surround  but uses ActivePure Technology exclusively. Great where completely Ozone-Free* technology is preferred, while giving you the benefits of our exclusive Certified Space Technology™
    Uses super oxide ions and hydro peroxides created by ActivePure Technology to remove contaminants
    Negatively charged ions remove microscopic particles from the air that will reduce harmful airborne pollutants
    Uses our exclusive ActivePure (RCI) Technology to produce safe, low-level, natural oxidizers and super oxide ions for basic, everyday applications
    Includes a remote control for easy operation
    An optional prefilter is available if your environment is exceptionally dusty
    Improves the quality of air in an environment up to 3,000 sq. feet
    IntelliAir Technology alerts you when normal maintenance is needed or service is required.



Electrical     • 100 ~ 240 VAC 50/60 Hz External Power Supply
• 48 watts, 475 LFM power consumption • Negative Ion Generation
Size     12in high x 9in wide x 12in deep
Weight     10.2 pounds
Coverage     Covers a range of 250 ft2 (23 m2) to 3000 ft2 (279 m2)**
** Depends on variables such as severity and frequency of pollution, humidity, and temperature
Warranty:     Three (3) year limited warranty