"Natural Vitamins" and Minerals For Men
"Natural Vitamins"

As we grow older, men need specific natural vitamins. Men begin to have problems with prostate health,and this can affect their lifestyle.
We are introducing new natural vitamins that are formulated especially for men over 40 who experience problems with their reproductive health.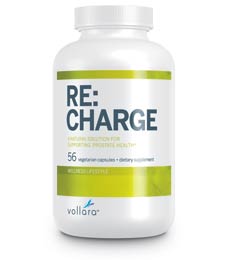 Re-Charge
Formerly Men's Formula

Re:Charge provides a natural solution to supporting prostate health, through a blend of herbs, enzymes and zinc, which can help with inflammation and provide key nutrients to prostate cells.
A Natural Solution to Support Prostate Health

Re:Charge is a natural solution to support prostate health. This formula delivers a highly effective blend of herbs, vitamins, minerals, amino acids, and antioxidants to help maintain normal urinary flow, support testicular function and potentially enhance sexual desire and performance. Re:Charge utilizes CAeDS®, an exclusive nutrient delivery system that guarantees maximum effectiveness.
Benefits of Re:Charge:

* Supports prostate health
* Helps maintain normal urinary flow and testicular function
* Helps to encourage healthy sexual desire and performance

Take Re: Charge if:

* You want extra support for prostate health
* Your doctor has recommended a natural prostate formula
aturally and Effectively Support Optimal Prostate Health.
Zinc and all-natural enzymes reduce inflammation and support prostate health.
* It contains a patented form of zinc, zinc arginine chelate, to enhance nutrient delivery and support the cells of the prostate. * Re:Charge provides a proprietary blend of herbs clinically proven to support prostate health. The formula includes protease enzymes, which can help with inflammation.
* Re:Charge includes a custom-formulated Chelate Activated Enzyme Delivery System (CAeDS®) ensuring the nutrients in this supplement are delivered to the cells of the body for maximum effectiveness
* The formula is all-natural, containing the highest quality ingredients, and is 100% vegetarian. It contains no lactose, gluten, MSG, salt, sugar, artificial colors, flavors or chemical preservatives, additives or fillers
Allergens: Contains no major allergens. (Contains no milk, egg, wheat, soy, peanuts, nuts, corn, fish or shellfish.)
Consult with your health practitioner and/or pharmacist if you are using any medications.




Click here to purchase "Natural Vitamins"


Email a Friend
about this page
(Only click once!
Please be patient while your
email application opens)