"LAUNDRY PURE"

THE NEWEST WAY TO DO LAUNDRY DETERGENT FREE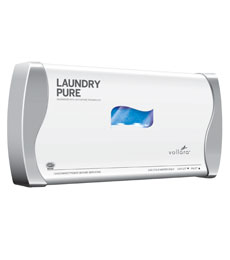 Welcome to our Laundry Pure page. In our efforts to bring you the best technology to help you save money, live green and keep your family healthy, we feel that this will do the job.
The technology has now been redesigned, and the old models are no longer for sale. If you already have a Laundry Pure and are looking for replacement parts click on the link below.

New technology
(Top Load Washers)Product # US40883

New technology
(Front Load Washers)Product # US40889

Click here for Pure Laundry Replacement Parts

The Benefits
Laundry Pure has space certified, RCI RCI technology, that will save you money, by eliminating the need for laundry detergent, bleach, and fabric softeners in your wash. It also saves electricity by eliminating the use of hot water in the laundry.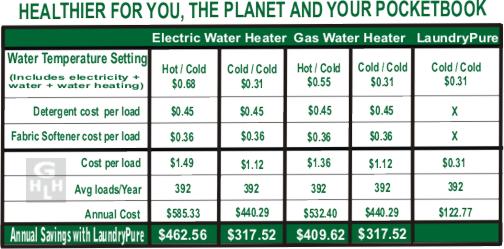 What Happens in a Pure LaundryCycle?
This RCI (Cutaway) technology hooks up to a washing machine to treat incoming water with the cleaning power of oxygen and bubbling peroxides to break down and lift away grime, without the need for detergent or hot water.



Reduce Or Eliminate Chemical Sensitivities
Good news for people with sensitive skin! With this new technology, you will NOT have any detergent residue building up on your clothes. I had this problem a few months ago. I had a favorite pair of slacks, and every time I wore them I got a rash on my waist under the waistband. I finally threw them away. If only I had this technology then, I could have saved my favorite pair of pants!


Sanitize Your Clothes without Bleach
Have you ever forgotten to take your laundry out of the washing machine, then gone back a day or so later only find that it has a stinky sour smell? That happens because the residual detergent left in the clothes sours and bacteria begin to grow.
Independent laboratory tests done by NSF(National Safety Foundation) on Laundry Pure showed a 99.999% success rate in getting rid of bacteria from laundry.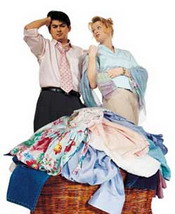 Saves Time No More Presorting
This new RCI technology is designed to eliminate the need to sort your clothes before washing. Since we have eliminated the two biggest factors for color bleeding: Hot Water and Detergents, it is logical that Laundry Pure is more forgiving when it comes to color bleeding. Our extensive field tests confirmed this; however, manufacturers still caution not to wash new colored fabrics together with whites, as there could be an initial color bleed due to excess dyes in the fabric.
Testing has shown that after a few washings with Laundry Pure, it will become highly unlikely that the clothes will continue to bleed.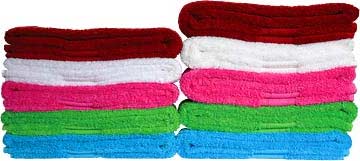 Softer Fluffier Towels
Detergent residue builds up and over time towels lose their original softness and fluffiness. This company test shows the effectiveness of our new laundry technology as old residues are washed away.



Clothes Last Longer
Abrasives commonly found in laundry detergents called Zeolites, grind away at clothes, towels and bedding while scrubbing out the dirt during the wash cycle. This can cause clothes to wear out more quickly. Lint in the dryer screen is evidence of the damaged fibers and the extra wear and tear that your laundry is exposed to as it is washed.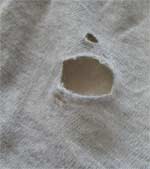 Clothes Turn Brighter
Because you are using only cold water, not only is there no longer any color bleeding, but your colors are much brighter.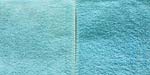 Compare these towels, one was washed 10 times in a regular wash, the other 10 times without detergent or chlorine bleach, in a Laundry Pure wash.
We feel the results speak for themselves. Notice the towel on the left and how the detergent has dulled the color, compared to the towel on the right.
A Healthier "No-Suds" Way to Do Laundry
Without hot water and with no detergent, Laundry Pure puts the technology of nature to work in the laundry room at home. Based on processes used for over a decade in hospitals, hotels, and Laundromats, cold water is infused with oxygen, peroxides, and other gases to bubble and lift dirt and grime from cloth fibers, leaving towels softer and fluffier, and clothes brighter and cleaner.
Plus, every load helps save energy and money. Reducing or eliminating detergent means less residue and abrasives to weigh down and wear out fabrics, and of course, less detergent to buy. Washing in cold water reduces the weekly demand on the household water heater and the energy bill.
So how does it work? Laundry Pure incorporates the power of our revolutionary, exclusive ActivePure Technology with the cleaning action of activated oxygen to lift dirt and grime away from the fibers of fabric and prevent the growth of odor-causing bacteria. Available for either front load or top load washers, Pure Laundry is an amazingly effective cold water laundry system for residential use. Laundry Pure is not recommended for steam type Washing machines.
Benefits of Pure Laundry

Eliminates the need for detergents and fabric softener

Prevents the growth of odors and contaminants without bleach or hot water

Helps eliminate allergic reactions due to detergent residue

Keeps colors brighter, longer and keep whites whiter

Gets towels softer and fluffier and helps cloths last longer

Maintenance-free model with fail-safe leak protection

Designed and built in the USA for reliability and durability; available for both front load and top load washers

* You save money and protect the environment by removing the need for hot water and detergents
There's no need to get a new washing machine. LaundryPure installs on all brands and models, upgrading their effectiveness.

· Eliminates the need for detergent* - Oxygen, peroxides, and other gases bubble into clothing to lift dirt and odors. An all-natural pretreater may be used for tough stains.

· Prevent odor-causing bacteria without bleach - LaundryPure combines the power of our revolutionary, exclusive ActivePure Technology, certified Space Technology, with the cleaning action of activated oxygen to lift dirt and grime away from the fibers of fabric and prevent the growth of odor-causing bacteria.

· Help eliminate allergic reactions due to detergent residue - LaundryPure also helps eliminate the itching and redness caused by allergies due to detergents embedded in clothing.

· Get towels softer and fluffier and help clothes last longer - Build-up on towels, linens, and your clothes can weigh them down. Over time, LaundryPure lifts old detergents out of fibers, restoring their natural softness.

· Make whites whiter and colors brighter - LaundryPure keeps clothes looking their best with the cleansing power of oxygen.

· Protects your home – A fail-safe leak protection circuit will shut off incoming water to the unit. A buzzer will sound and the display will turn red to notify you of any problems.

· Designed with you in mind – The new model is designed smaller for easier installation and requires no cleaning or maintenance to operate at peak performance. An easy to see display window glows blue when operating normally and glows red when a problems exists.

· Friendly to people, the planet and your pocketbook - LaundryPure eliminates the need for hot water cycles. The unit itself is RoHS compliant and uses 50% less energy than previous models. This means less energy, less pollution, and more money in your pocketbook.
*Note: LaundryPure reduces or eliminates the need for laundry detergent. While many users find that LaundryPure alone effectively cleans their laundry, you may find it necessary to pre-treat or use a reduced amount of detergent to remove certain stains. If you find that detergent is necessary, we recommend using 1/8th the amount you previously used before your LaundryPure purchase.
Dissolved Oxygen Concentration: 0.18 mg/L or 0.18 ppm (180 ppb)

Technology: ActivePure Activated Oxygen

Power Consumption: 7.5W (standby mode) 25W operating

AC/DC Adaptor: AC in: 100-240V ~50/60 Hz 0.8A DC out: 12V 2.5A

Water Pressure: Minimum 10 psi to 75 psi maximum

Water Temperature: Use cold water only (do not use hot water)

Applications: Residential laundry

Coverage: N/A

Size: 18.25 in. wide x 9.375 in. tall x 4.0 in. deep

Weight: 7.55 lbs

Warranty: 1 year limited warranty



Does Not Pollute The Environment
Americans buy 6 billion US dollars of laundry detergent every year. Conservatively, that is enough to fill 126,000 semi trucks parked bumper to bumper from Vancouver to Los Angeles fully loaded with 20 tons of detergent each. This is what gets added to washing machines which on the average dumps about 25-30 gallons of chemically loaded, polluted water into our environment per load. That amounts to approximately 330 billion gallons of polluted water every year.
IMAGINE THE POSITIVE IMPACT ON OUR ENVIRONMENT AS MORE PEOPLE DISCOVER Laundry Pure!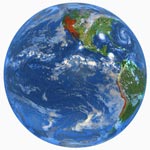 Click arrow below to watch a demonstration of Laundry Pure at work.

Click here for Laundry Pure Replacement Parts


Click here to Purchase Pure Laundry